September 2005. By far our most adventurous trip to date.
This was the 400 mile journey up to Corpach, then launch into the Loch, up Neptune's staircase ( 8 locks), and into the Caledonian canal.
The team for this event was :- Cox PeteThomson, Stroke Graham Chaddock, Steve Cook, Paul Headlam, Tim Hicking, Graham Hughes & Roger Turton.
Lifeboat crews from Mallaig, and Inverness, and members of the RNLI fundraising staff also joined the boat for part of the trip.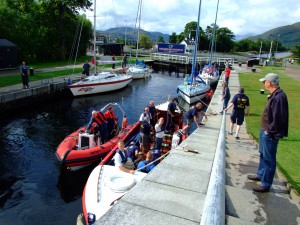 After a slipway launch at Corpach marina, an interesting trip through the series of locks of the "Neptune's Staircase" began.
Some 20 miles later, down the series of locks at fort William, and into Loch Ness.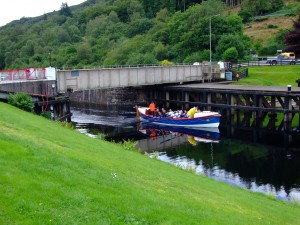 The journey up the lock to Drumnadrochit was pretty fast with a very strong South- west wing blowing us along in a choppy sea.
After an overnight stay, we moved on next day to finish the journey at Inverness, a total distance of 64 miles on water.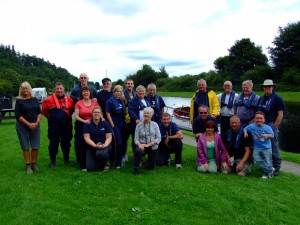 THE FULL TEAM
Returning to Whitby with a round trip of 800 miles.