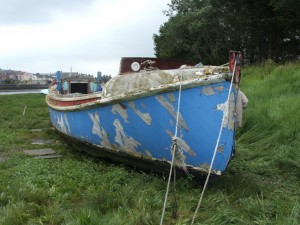 The 1909 Upgang and Whitby lifeboat was discovered for sale on ebay by Mr Dave Charlton of Haltwhistle in 2005. Dave contacted Pete Thomson, Hon/Curator of the Whitby Lifeboat Museum, to see if Whitby RNLI was interested. As the RNLI cannot spend  it's funds on restoring lifeboats, Pete explained the situation to Dave, but said he was still interested. Dave subsequently bought the boat, and offered to donate her to Whitby if a Trust could be formed and restoration begin. Pete soon gathered half a dozen interested parties, and  the Whitby Historic Lifeboat Trust was formed.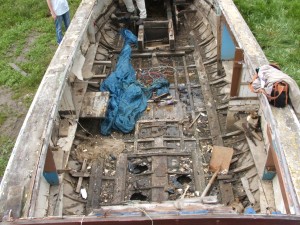 What remained of the Riley had been left neglected on the banks of the river Taw at Barnstaple, Devon, and was in a very sorry state. Dave, his wife Sarah, Pete, and Tim Hicking (Trustee) travelled down to Barnstaple in August, and on the highest tide managed to get the boat to a nearby wharf.     Here a crane was waiting, and thanks to the loan of a lorry by Mr                             of Skinningrove, the Riley was safely shipped to Whitby.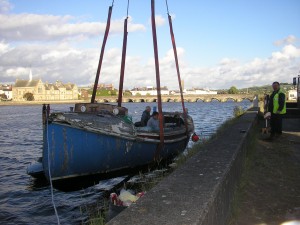 On arriving home in Whitby, the boat was transferred to a barn at Cross Butts courtesy of Mr John Morley. There she was placed in a rolling rig, and restoration work began.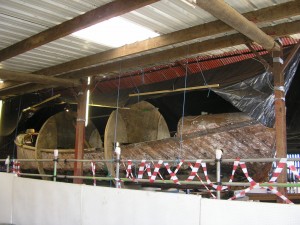 The damaged mahogany planking was replaced and the boat sheathed in fibreglass matting before a final paint.
The internal decking, seats, and bulkheads were  completed in Haltwhistle by Dave Charlton and his partner Ian who rub a restoration business.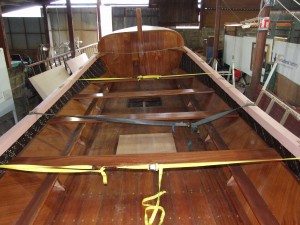 After returning to Whitby, the Riley was finished off at Cross butts.